Other Empress Artists
Sagebrush Studios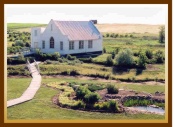 Dean Francis captures on canvas the rolling hills and the steeply cut ravines that spread out from the banks of th
These two artists have salvaged three old churches from neighbouring communities, moved them onto their property and transformed them into spectacular galleries and workspace.
Hundreds and hundreds of natural prairie plants grow in ribbons through their yard and garden enthusiasts drive for hours to see what a real xeriscaped garden can look like.
Sagebrush Studios is open from May to the end of the September long weekend, but occasionally closes when Dean travels to shows like the Calgary Stampede. Phone 1-877-565-2039 to check hours or log on to their website at www.deanfrancis.ca to view their work.
Rusty Trucks
Gary Marshall is in the process of moving to Empress. He's bought an old house and is renovating it on his periodic visits...because his wife refuses to come out until there's a fully functional bathroom. :)
He "rusticates" model trucks and cars, hence the name of his business. Windshields are broken or crazed. Headlights disappear, tailpipes dangle, motors go missing. Open the doors and you might see a broken steering wheel, a spring poking through the battered seat or holes in the "floorboards".
But Rusty Trucks is sort of a misnomer because he's also a painter and his paintings are anything but rusty relics. Gary paints classic cars. If you own a 1950's Buick, a 1960's Mustang or something of the sort, Gary is the one to contact to commission a "portrait".
He also builds rustic ghost town clocks and dabbles in clay sculpture just for fun, too.
I think he also has some of his car "portraits" kicking around Empress so I'll encourage him to also put them on the wall before we hold our next Artisan Open house.
The Garden Hideaway
So named because this tiny gallery is hidden in a sunken garden in a structure that was once a stable.
Owner Bev Farnden is a quilter, her sister does glass lampworked beaded jewelry and ornaments, her brother- in-law works in stained glass and her daughter is a photographer. Unfortunately they all other have full time jobs or are deeply involved in other projects, so The Garden Hideway is a part-time affair.
But it's always open for the annual Artisan Open House which will happen this year on Saturday June 2 and Sunday June 3rd.
Panorama Photography
Forty years ago George McWilliams made panoramic photos with a second hand Russian camera that mechanically assembled an image as it click, click, clicked its way from one end of the 180 degree view to the other. His collection of equipment seems to have grown exponentially since that time.
But marriage and seven children necessitated a long hiatus from his photo mania but he says, "When several factors converged - the evolution of digital camera technology, the development of ink jet printers that could output a product that won't fade in 100 years, and the creation of software that creates seamless panoramas with superb resolution at the same time that the kids grew up - I sprang into existence."
Joy Hensel Photography
Joy hikes the hills and valleys, visits the old farmsteads and deserted granaries and generally has a camera slung over her shoulder wherever she goes leaves her little Empress house.
One of seven children raised in northern British Columbia she's always been used to being outside. She most enjoyed playing in puddles, or amongst the rocks and weeds, beside the lakes, in the forest or up the side of a mountain.
"Even at twenty I still enjoyed skating outdoors", she says. "Since I can remember, my minds' eye has been looking at nature and taking pictures."
"My husbands work in mining has moved us from one place to another around Western Canada because as each mine shut down we had to relocate. Because of that we experienced a whole variety of ecosystems", she says, because we've always been active in the outdoors and appreciated the adventurous lifestyles each new job offered us."
"As a photographer I'm very happy that 35 mm film has been replaced by digital technology. I remember storing up to 12 rolls of film in the fridge waiting for the day that the local camera shop would have a print special. Now I'm unrestricted!"
Joy has made a large selection of her images into note cards that we sell here at That's Empressive!